Standesk Memory Dual (Black)
SKU:
OP-MB-STANDESK MEMORY BLACK+OP-MB-2 MONITOR BRACKET
Electric Sit-Stand Ergonomic Workstation with Memory Function and a Dual Monitor Arm released in July 2018. Free Delivery Australia Wide.
Hurry Up! Only 100 products left in stock.
Innovation, ergonomic, beautifully designed and just plain cool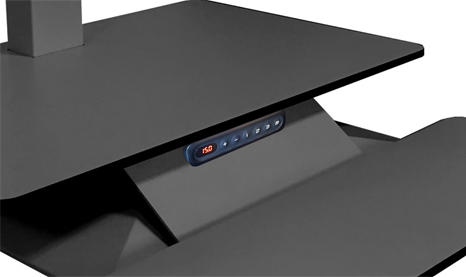 The Standesk Memory Dual is an electric sit-stand workstation with 2 work surfaces, memory function and a dual monitor arm which seamlessly transforms any fixed-height desk into an active height adjustable desk providing the ergonomic benefits of sitting and standing at your existing desk without the expense and inconvenience of purchasing a new desk.
The Standesk Memory is a beautifully designed and engineered electric height adjustable sit-stand workstation with a sophisticated 3 height memory system, keyboard tray for the keyboard and mouse, and a large and generous desk area to accommodate a monitor and laptop. With infinite height settings, your desired height can be adjusted in just seconds.
Using the Standesk Electric Sit-Stand Workstation helps to reduce cardiovascular disease and incidents of neck and back pain. It will give you increased productivity, energy levels and overall mental and physical fitness, all within an affordable budget.
For the best experience, it is best to use a wireless Keyboard and Mouse with the Standesk Memory.
Watch a Youtube Video of the Standesk
On September 28th, 2014 "60 Minutes" featured a story detailing the health issues associated with sitting called "Stand Up Australia". The latest research shows that sitting is as detrimental to one's health as that of smoking. The simple solution to today's sedentary life is to stand more during the day and sit less. This can be achieved by using Height Adjustable Desking which enables a person to stand while working.
More Information
Sits on top of an existing desk: no need to add additional expense buying another desk
Twin Monitor Bracket: this accessory will allow you to mount 2 monitors to work simultaneously
Desk Load Weight Capacity: 50kg
Keyboard Load Weight Capacity: 5kg
Worksurface Top Dimensions:
Width: 700mm (Front to Back)

Depth: 640mm (Front to Back)

Thickness: 12mm

Desk Height Range: 100-540mm
Keyboard Tray Dimensions:
Width: 700mm

Depth: 220mm

Thickness: 12mm

Maximum Height: 460mm
Twin Monitor Bracket Tech Specification:
Bracket Type: Dual Monitor Pole Mount

Max screen width including bezel = 600mm Width

Screen Size: up to 27" (depending on bezel & screen overall width)

Weight Rating: up to 10kg per screen

VESA Mounting Support: 75 x 75 to 100 x 100 (WxH)

iMac convertible using VESA Mount Adapter Kit for iMac adapter

Tilt: 15°

Up, 15°

Down from centre

Extension 300mm to 610mm from centre to centre of VESA mounting bracket

Potrait/Landscape: both (360° rotation)

Pole Length: 675mm (Pole size: L675mm x W55mm)

Accessories: Parts bag, M4 bolts, User Guide & Hex Key

Colour: Silver Matte Finish

Warranty: 5 Years

Recommended for LCD Monitors up to 27"

Solid Diecast Aluminium Track allowing for different size Monitors

Angle/Swivel Adjustment for monitor arm included. NOTE: this can be reversed to increase the height of the monitor for taller users during assembly

VESA Brackets are adjustable for swivel and angle

Per unit box size = 760mm x 150mm x 70mm (0.008m3)

Gross Weight: 1.8kg per unit
Features:
2 Platforms, one for the Keyboard and the other a Worksurface

Telescopic electric leg height adjustment - whisper quiet

Small Footprint as the unit raises and lowers in a vertical plane with it's s

traight up and down design

Infinite incremental height adjustments

Angle/Swivel adjustment for monitor arm included

Vertical height adjustment of the desk surface

No pinch points for personal safety, and eliminates the possibility of power cords being cut creating an electrical hazard and electric shock

Transportable and compact for when you need to change work areas or locations

Sturdy and stable even when fully extended
Sensor Touch Activating Buttons: Ease of operation - just touch the button to activate. Located in the centre of the outrigger
3 Memory Height Positions: press the button to make the unit go to any pre-determined position without having to hold the button
Up/Down Button
Anti-Collision Feature: ensures safety when the unit is going up or down
Maximum Speed Adjustment: 40mm/sec
Automatic Sleep Function: saves power. To power up the unit, just touch any button
Functional Design: user-friendly and aesthetically pleasing
Proven reliability of electrical system
Colour: Black
Materials:
Compact Panel (Better than MDF)

Solid Diecast Aluminium Base
Conforms to AS/NZS60335.1 Electrical Standards
Patented & Registered Design in Australia & New Zealand
Assembly: Some assembly required; most of the parts are pre-assembled
Shipping Dimensions: 740 x 550 x 190mm (0.08m3)
Gross Weight: 32kg
Warranty: 5 Years